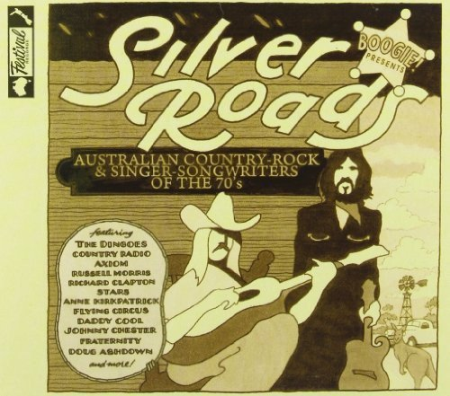 Artist
: VA
Title
: Boogie Presents: Silver Roads (Australian Country-Rock & Singer-Songwriters Of The 70's)
Year Of Release
: 2013
Label
: Warner Music/Festival Records
Genre
: Rock, Blues Rock, Country Rock
Quality
: Mp3 320 / Flac (tracks, .cue, log)
Total
: 01:19:27 + 01:19:31
Total Size
: 386 Mb / 1 Gb (covers)
Tracklist:
CD 1:
01. Country Radio - Gypsy Queen
02. Axiom - Arkansas Grass
03. Russell Morris - Lay In The Graveyard
04. Brian Cadd & Don Mudie - Show Me The Way
05. The Dingoes - Starting Today
06. Flying Circus - The Longest Day
07. Anne Kirkpatrick - Feel A Whole Lot Better
08. Third Union Band - Hyway Ryder
09. Richard Clapton - Down The Road (single version)
10. Home - Forget Me Not
11. John J. Francis - Play Muma Play (Sing Me A Song)
12. Carrl & Janie Myriad - Back In The Wildwoods Again
13. Fotheringay - The Ballad Of Ned Kelly
14. Quinn - The Mighty Quinn
15. Bluestone - Wind And Rain
16. Sundown - Outback Dan
17. Saltbush - Brown Bottle Blues
18. Uncle Bob's Band - Mr. Domestic
19. Digby Richards - People Call Me Country
20. Lee Conway - I Just Didn't Hear
21. Johnny Chester - Midnight Bus
22. Daddy Cool - Just As Long As We're Together
23. Gary Young's Hot Dog - Rock-A-Billy Beatin' Boogie Band
24. Autodrifters - The Birth Of The Ute
CD 2:
01. Billy Thorpe & The Aztecs - Cigarettes And Whiskey
02. Stars - Land Of Fortune
03. The Dingoes - Boy On The Run
04. Cold Chisel - Khe Sanh
05. Fraternity (featuring Bon Scott) - Summerville
06. Chain - Show Me Home
07. Broderick Smith - She's Gone
08. Axiom - Ford's Bridge
09. Johnny Chester - Glory Glory
10. Laurie Allen Revue - Not Born To Follow
11. Gary Shearston - Faded Streets, Windy Weather
12. Margret RoadKnight - Girls In Our Town
13. Doug Ashdown - Winter In America
14. Ross Ryan - I Don't Want To Know About It
15. Russell Morris - Alcohol Farm
16. Ray Brown and Moonstone - Call Me A Drifter
17. Flying Circus - Silvertown Girl
18. Tymepiece - Sweet Release
19. Autumn - Falling
20. Max Merritt & The Meteors - Slippin' Away
21. Little River Band - It's A Long Way There
22. Hot Knives (featuring Greg Quill) - Wintersong
Festival Records and Warner Music Australia are excited to announce the release of BOOGIE! Presents Silver Roads: Australian Country-Rock and Singer-Songwriters of the '70s, a follow up, or a companion piece, to 2012's Boogie! Australian Blues, R&B and Heavy Rock from the '70s. While Boogie! was decidedly blues focused, Silver Roads looks at the other side of return-to-roots coin the incorporation of country and folk influences in the Australian rock scene of the late 60s and 70s. It looks at a local scene in which artists followed the lead of the likes of Bob Dylan, the Band, CSN&Y and Gram Parsons and created some fantastic music. It includes some iconic Australian hit singles like long-lost classic Gypsy Queen by the late Greg Quill & Country Radio , Arkansas Grass by Axiom, Boy On The Run by the Dingoes, Winter In America by Doug Ashdown, Slipping Away by Max Merritt & The Meteors, Girls in Our Town by Margret RoadKnight, even Khe Sanh by Cold Chisel and the Little River Band's breakthrough It's a Long Way There. The double CD also features some fascinating obscurities, such as The Birth of The Ute by the Melbourne pub outfit the Autodrifters, featuring the late, great Peter Lillie, plus many more. The album was co-compiled by noted author Clinton Walker ('Buried Country: The Story of Aboriginal Country', 'Highway to Hell: the Life & Death of Bon Scott') and Boogie! compiler Dave Laing. It features new artwork from Boogie! cover artist (and legendary '70s LP cover and poster artist) Ian McCausland. Boogie! Presents Silver Roads is a comprehensive look at a part of Australian music history that had a huge impact at the . With so many classic artists and tracks, and with the renewed interest in country & folk sounds in recent years, the album will be essential for Australian music fans young and old.
VA - Boogie Presents: Silver Roads (Australian Country-Rock & Singer-Songwriters Of The 70's) (2013) 320
VA - Boogie Presents: Silver Roads (Australian Country-Rock & Singer-Songwriters Of The 70's) (2013) Lossless
DOWNLOADuploadgigrapidgatornitroflare
Download VA - Boogie Presents: Silver Roads (Australian Country-Rock & Singer-Songwriters Of The 70's) (2013) Mp3 320kbps
Dear visitor, you went to the site as unregistered user. We encourage you to register or enter the site under your name.