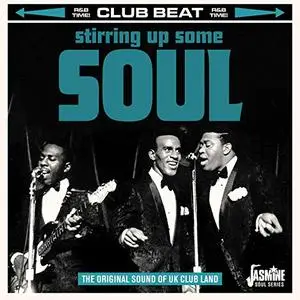 VA - Club Beat Stirring Up Some Soul (The Original Sound of UK Club Land) (2019)
FLAC tracks / MP3 320 kbps | 1:02:09 | 135 Mb / 223 Mb
Genre: R&B, Soul
/
Label: Jasmine Records
'SOUL MUSIC arose out of the black experience in America through the transmutation of gospel and rhythm & blues into a form for funky, secular testifying.' - Otis Redding. 'SOUL MUSIC is pain - you can hear the slaves, the beatin' and hurtin'.
' - Link Wray. WELCOME to the latest instalment of our 'Adventures in UK Club Land' exploring the 'Club Beat' - the roots of R&B, Ska, Gospel, Jazz, Blues, Mod and, in this chapter, SOUL. Pre '63 the term 'Soul music' was not in use as a genre defining expression. Artists might be described as 'soulful' such as Chuck Jackson, Baby Washington or the Impressions (featured here), although hardly household names at the time. Even our opening act, the mighty Supremes, were little known over here and, in fact, were jokingly referred to as the non-hit Supremes in their own country. It wasn't until a year or two later, '64-'65, that Soul music really established itself. By then America had, by and large, stopped making traditional R&B, and in the U.K. nobody wanted to hear home-grown R&B-styled white acts, Motown had arrived and Soul music ruled the day. Soul music today is firmly entrenched in popular culture and we hope you enjoy our retrospective of the sounds that set the Soul template.
Track List:
[02:40] 01. The Supremes - Your Heart Belongs to Me
[02:22] 02. The Impressions - Minstrel and Queen
[02:56] 03. Sidney Barnes - Wait
[02:16] 04. Joyce Davis - Moments to Remember
[02:11] 05. Walter Jackson - I Don't Want to Suffer
[02:37] 06. Jamie Coe - Cleopatra
[02:09] 07. Baby Washington - Hush Heart
[02:13] 08. Billy Bland - My Heart's on Fire
[02:01] 09. Fred Bridges - Baby Don't You Weep
[02:13] 10. The Majestics - Treat Me Like You Want to Be Treated
[02:27] 11. Tony Smith - Mr. John's Cha Cha
[02:04] 12. Vernon Harrell - Slick Chick
[02:12] 13. Billy La Mont - I'm Gonna Try
[02:30] 14. Irma Thomas - I Did My Part
[03:12] 15. Leroy Jones - Hide 'Nor Hair
[02:21] 16. Sonny Forriest - Train
[02:38] 17. Dorothy Berry, Jimmy Norman - I'm with You All the Way
[02:05] 18. Eli Lee - I Get the Feelin'
[02:01] 19. Johnny Acey - Please Don't Go (Back to Baltimore)
[02:52] 20. Sonny Thompson - Lost in This Great Big City
[02:46] 21. Jr. Walker & The All Stars - Cleo's Mood
[03:16] 22. Chuck Jackson - Any Day Now (My Wild Beautiful Bird)
[02:47] 23. Barbara George - The Recipe (For Perfect Fools)
[02:58] 24. Jean DuShon - Plaything
[02:11] 25. Roosevelt Nettles - Heartaches and Trouble
DOWNLOADuploadgigrapidgatornitroflare
Download VA - Club Beat Stirring Up Some Soul (The Original Sound of UK Club Land) (2019) Mp3 320kbps
Dear visitor, you went to the site as unregistered user. We encourage you to register or enter the site under your name.