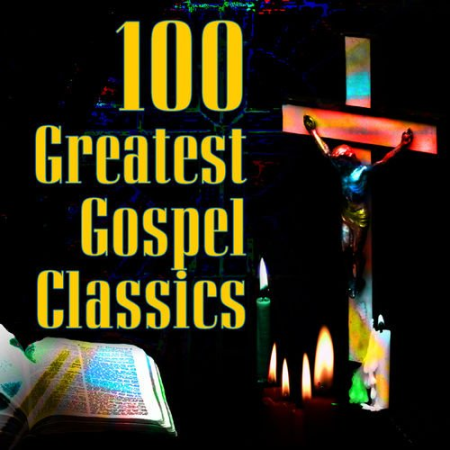 Mp3 CBR 320 kbps | Gospel | 4 hrs 39 mins | 1CD | 649 Mb
Lou Rawls - Walk With Me
The Dixie Hummingbirds - One Day
Charles Taylor - Waiting and Watching
Mahalia Jackson - Move On Up a Little Higher (Pt. 1)
Five Blind Boys Of Alabama - Power of the Lord
Soul Satisfiers of Philadelphia - Run On Home and Live With God
The Staple Singers - Swing Low, Sweet Chariot
Famous Blue Jay Singers - Jesus, Lover of My Soul
The Caravans - A Place Like That
Brother Joe May/Sister Wynona Carr - I See Jesus
Shirley Caesar - I Feel Good
Della Reese & the Meditations - Hard to Get Along
B.B. King - Servant's Prayer
Professor Alex Bradford - Lord! Lord! Lord!
Sam Cooke - Pilgrim of Sorrow
The Blackwood Brothers - Jesus Held Onto My Hand
Candi Staton/The Jewel Gospel Trio - Jesus Is Listening
Mello-Aires Of Rochester - Take Your Burdens There
Rev. H.B. Crum & the Mighty Golden Keys - I Wanna Be Ready
Silvertone Quintet - Stand By Me
The Roberta Martin Singers - Where Can I Go?
Brother Cecil Shaw - Livin' My Life for Jesus
Soul Satisfiers of Philadelphia - I'm His and He's Mine
Sonny Til - The Lord's Prayer
The Bells Of Joy - Do Lord Remember Me
Swan Silvertones - He Won't Deny Me
The Davis Sisters - By and By
Angelic Gospel Singers - Touch Me, Lord Jesus
The Original Gospel Harmonettes - He Is Calling Me
Kansas City Soul Revivers - Jesus Came At Midnight
Sister Rosa Shaw - He Rolled the Stone Away
Mighty Clouds Of Joy - Nobody Can Turn Me Around
Deacon Tom Foger & the Camp Meeting Choir - Working On the Building
Sam Cooke/The Soul Stirrers - Come An' Go to Tha Land
Rev. Maceo Woods - Let My People Go
The Golden Gate Quartet - Listen To the Lambs
Ruth Brown - Will the Circle Be Unbroken
Jessie Mae Renfro - Hold My Hand
The Pilgrim Travelers - How Jesus Died
The Christland Singers - Am I Too Close?
Jackson Gospel Singers - I Can't Walk This Highway
Blind Wonders of Washington D.C. - Night Prayer
Spiritualaires of Columbia - Lay This Body Down
Marion Williams - When I Lay This Body Down
Sallie Martin Singers - Throw Out the Lifeline
Doug Williams & The Mello-Tones - Send Me
Sister Rosetta Tharpe/Marie Knight - Did Not It Rain
The Stars of Hope - You Better Mind
Willson and Watson Singers - After a While
Little Joe Cook/Tthe Evening Star Quartet - I'm a Witness
The Pilgrim Singers - The Glory Land
Sister Elizabeth Phillips & the Pilgrim Singers - In the Kingdom With the Lord
Holly Dunn - Wings of an Angel
Sly Stone - Walking in Jesus' Name
Blair Gospel Singers - I've Been Moaning In the Valley So Long
Clara Ward - Oh Glory Hallelujah
The Fairfield Four - I'll Be Satisfied
Bessie Griffin & The Caravans - Let Us Run
Rosetta Winn & Her Tornadoes - Building On the Good Shore
Flying Clouds of Detroit - When They Ring Those Golden Bells
Brother Cleophus Robinson - I Have Got a New Born Soul
Little Richard - Every I Feel the Spirit
Tommiettes Gospel Singers - Have You Been Through the Water?
Norfleet Brothers - None But the Righteous
The Hightower Brothers - He That Believeth in Me
Sister Bernice Dobson/Camp Meeting Choir - If I Can Just Make It In
James Cleveland - Old Religion
Trenton Singers - I Shall Know Him
Sister Rosetta Tharpe - Teach Me to Be Right
Tennessee Ernie Ford - His Amazing Grace
Victory Five - I Never Knew
Sister Bessie Griffin/Brownie McGhee - Heaven's Radio
National Clouds of Joy - Somebody Touched Me
The Dixie Nightingales - Living for My Jesus
Roscoe Robinson/Huey Brown/The Silver Quinetette - Sinner's Crossroads
The Argo Singers - He's Alright With Me
Silvertone Quintet - It's Gonna Rain
McCauley Spiritual Singers - Jesus Gave Me Water
The Violinaires - Another Soldier Gone
Rev. Ballenger  /Willie Dixon - This Train
C.L. Franklin - Wings of Faith
Kindly Shepherds - Climbing Higher Mountains
Kansas City Soul Revivers - I Don't Need No One Else
Edna Gallmon Cooke - Walk Through the Valley
Cleophus Robinson/Sister Josephine Jones - I Can See So Much
Spiritual Harmonizers - Wait On the Lord
Rev. H.B. Crum & the Mighty Golden Keys - Do You Know Me, Thomas?
Hazel Chapman & the Golden Harmonizers - I'm Going to Die With a Staff in My Hand
Inez Andrews/The Caravans - I'm Not Tired Yet
Saints Of Glory - Jesus Knows
Rev. Gatemouth Moore - Glory, Glory Hallelujah
Ethel Davenport - Steal Away and Pray
O.V. Wright - Sit Down and Rest Awhile
The Norfleet Brothers - Draw Me Nearer
Sister Emily Bram - Each Day
The Argo Singers - I've Been Saved
Wynona Carr - There Is Rest for the Weary
The Jubalaires - Ezekiel
Mavis Staples - Uncloudy Day
Joshua White & His Carolinians - King Jesus Knows I'm Coming
DOWNLOADuploadgigrapidgatornitroflare
Download VA - 100 Greatest Gospel Classics (2012) Mp3 320kbps
Dear visitor, you went to the site as unregistered user. We encourage you to register or enter the site under your name.